JIQ Magazine vol. 23, no. 2 (July 2017)
Dear JIQ reader,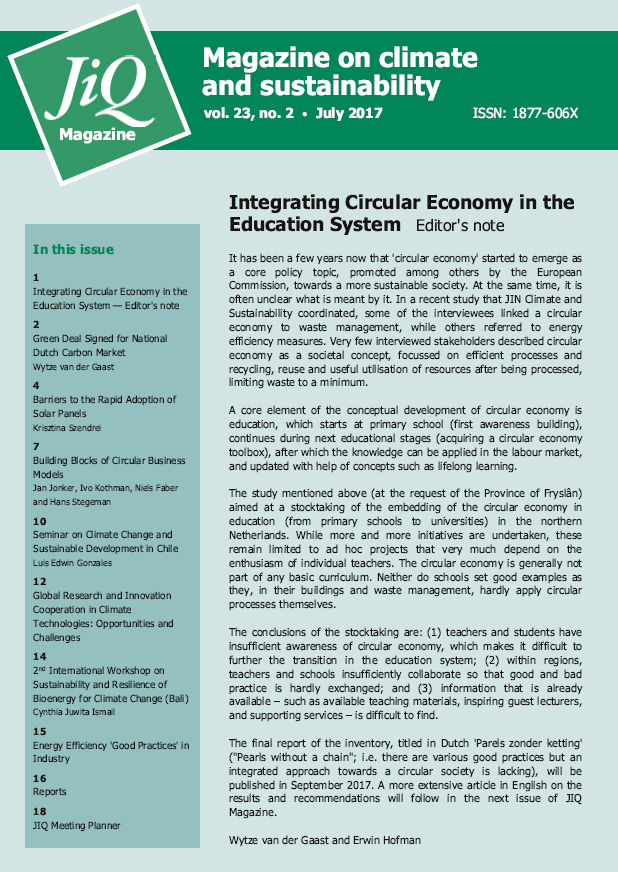 We have the pleasure to present the latest issue of JIQ Magazine (Joint Implementation Quarterly) with the following topics:
Integrating circular economy in the education system - Editor's note
Green Deal signed for national Dutch carbon market (by Wytze van der Gaast)
Barriers to the rapid adoption of solar panels (by Krisztina Szendrei)
Building blocks of circular business models (by Jan Jonker, Ivo Kothman, Niels Faber and Hans Stegeman)
Seminar on climate change and sustainable development in Chile (by Luis Edwin Gonzales)
Global research and innovation cooperation in climate technologies: opportunities and challenges (CARISMA project)
2nd international workshop on sustainability and research of bioenergy for climate change - Bali, Indonesia (by Cynthia Juwita Ismail)
Energy efficiency 'good practices' in industry (EU-MERCI project)
Reports
JIQ Meeting Planner
The issue can be downloaded here:

JIQ_Magazine_July_2017.pdf2.25 MB
Please enter your email address at the JIQ subscription page to register for the upcoming issues of JIQ Magazine.
We hope you enjoy reading the issue.
All the best,
JIQ editors