Video: 'Biobased Pop-up Museum'
Windesheim/K&C 'Biobased Pop-up Museum' in Emmen, the Netherlands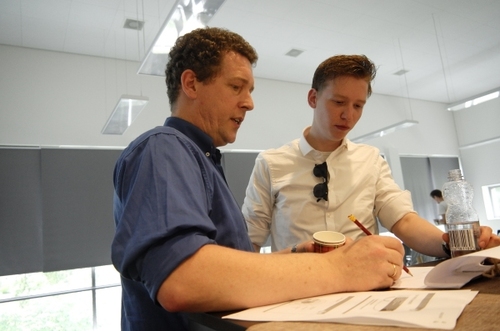 Recently, a Bio-based Pop-up museum has been initiated as a collaboration effort by the K&C Centre for Art and Culture, the Windesheim University of Applied Sciences, and a number of small and medium-sized enterprises (SMEs) in the Netherlands. The museum aims at showing examples of how (industrial) design can be based on use of bio-based materials. It will be a mobile exhibition which will 'pop up' in several places in the northern part of the Netherlands.
In September of this year, the project began with a kick-off event to inform (industrial) design students at Windesheim about the importance of using bio-based materials for achieving, among others, the climate goals of the Paris Agreement. At this event, students obtained background information from Wytze van der Gaast (JIN) about climate change and how use of biobased materials can contribute to a low-emission future. SMEs presented their businesses and introduced the assignments for the students. Each SME had formulated a research question based on a desired improvement of their business operation, to be addressed by the students during this course year.
In a next phase of the project, results (bio-based products and processes) will be presented in the Popup museum to a wider audience at several locations
In December 2016, a short video of the kick-off event was released, including an interview with JIN's Wytze van der Gaast.
Video
If the embedded video above does not play, you can click the following link: https://www.youtube.com/watch?v=-ZjmayXe2g8
--Update--
On 20 January 2017, the students presented their designs to a jury. JIN's Wytze van der Gaast was member of the jury. For an impression of the event, the designs and a picture of the winning design, see the following clip: