JIQ Magazine vol. 24, no. 2 (October 2018)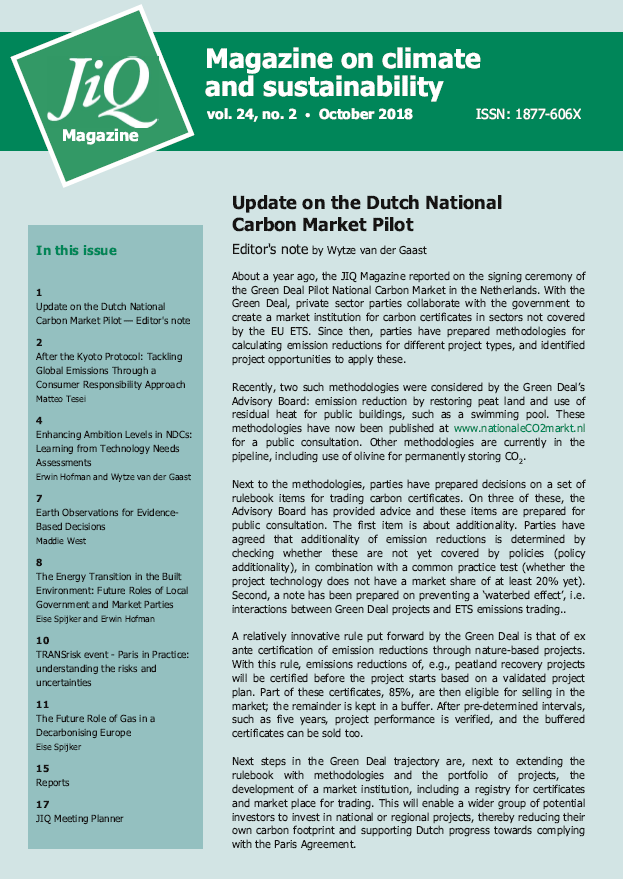 Dear JIQ reader,
We have the pleasure to present the latest issue of JIQ Magazine (Joint Implementation Quarterly) with the following topics:
Update on the Dutch National Carbon Market Pilot — Editor's note
After the Kyoto Protocol: Tackling Global Emissions Through a Consumer Responsibility Approach

(by Matteo Tesei)
Enhancing Ambition Levels in NDCs: Learning from Technology Needs Assessments (by Erwin Hofman and Wytze van der Gaast)
Earth Observations for Evidence-Based Decisions (by Maddie West)
The Energy Transition in the Built Environment: Future Roles of Local Government and Market Parties (by Eise Spijker and Erwin Hofman, PUBLENEF project)
TRANSrisk event - Paris in Practice: understanding the risks and uncertainties
The Future Role of Gas in a Decarbonising Europe (by Eise Spijker)
Reports
JIQ Meeting Planner
The issue can be downloaded here:

JIQ_Magazine_October_2018.pdf2.02 MB
Please enter your email address at the JIQ subscription page to register for the upcoming issues of JIQ Magazine.
We hope you enjoy reading the issue.
All the best,
JIQ editors