Dear JIQ reader,
We have the pleasure to present the latest issue of the Joint Implementation Quarterly (JIQ) with the following topics: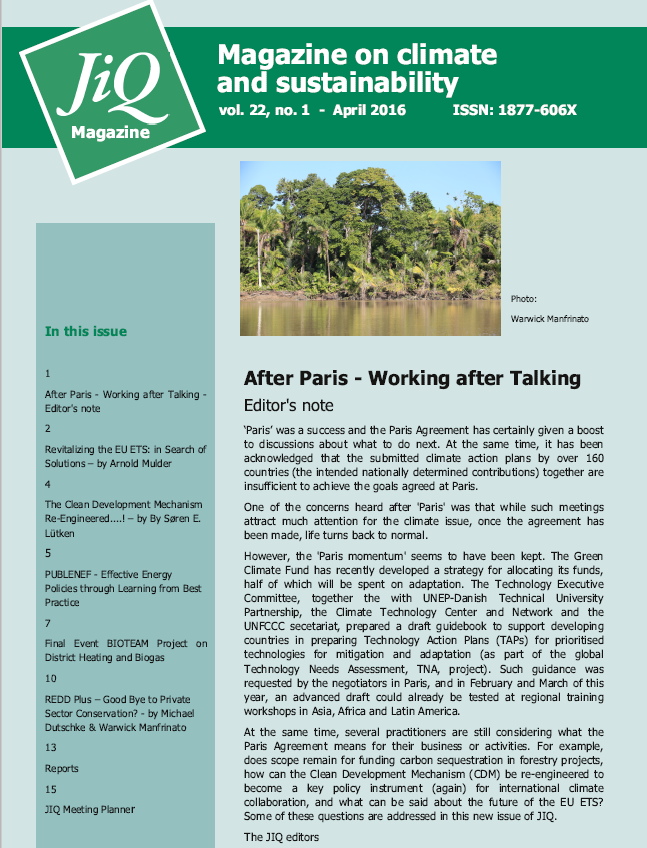 After Paris - Working after Talking - Editor's note
Revitalizing the EU ETS: in Search of Solutions – by Arnold Mulder
The Clean Development Mechanism Re-Engineered....! – by By Søren E. Lütken
PUBLENEF - Effective Energy Policies through Learning from Best Practice
Final Event BIOTEAM Project on District Heating and Biogas
REDD Plus – Good Bye to Private Sector Conservation? - by Michael Dutschke & Warwick Manfrinato
Reports
JIQ Meeting Planner
The issue can be downloaded from:

JIQ_April16.pdf6.88 MB
Please enter your email address at the JIQ subscription page to register for the upcoming issues of JIQ Magazine.
We hope you enjoy reading the issue.
All the best,
JIQ editors